Heres a wee history of my car
This is how it looked the day i bought it back in November 2006
Sadly, being a new driver, i binned it into a ditch a month after passing my test.... also the day my coilovers arrived! and i bashed the **** out the rear quarter and bumper. Also bent the rear trailing arm
So i put on a new trailing arm then me and a friend did a quick spraycan job on the back bumper, decided at that time to put my Rota Slipstreams on cause i was sick of the 3 spokes

It was then booked into a bodyshop to get the quarter pulled out and to get the bumper properly painted
After it came out i got my D2 coilovers on asap due to being sick of the tractor ride height. Once they were on it was sitting like this
Not too long after that i got an exhaust system for it. A skunk2 Megapower cat back with ebay manifold and sports cat.... not quiet at all!!
Next up on the list was a set of import plates, complete with import recess and tilt bracket. Also a set of wind deflectors and an EK9 style grill that i got given as a present for my 18th birthday
A cheapo ebay front strut brace was put on sometime around then too
I then stripped out the rear of the car and fitted a set of del sol front seats, found these ofered a fair bit more support that the shan standard things. Got an SiR lip too, one of my favourite parts of the car... really completes the front end of the car
After months and months of searching, i eventually found a set of 50/50 rear lights on ebay.. they were snapped up straight away. Also... after a huge amount of peer pressure, i took the spoiler off. Looks a huge amount cleaner without it even though i was unsure to start with
Next up i focused on the interior slightly, i fitted a set of OEM cupholders... these things really should have came standard in every civic, so so handy to have.
Theres also now a shortshifter, Skunk2 gearknob and OEM EK9 gear gaitor. A Personal steering wheel was fitted too, later fitted to a snap off wheel boss for that extra little bit of security
A few months after that i was offered a new set of wheels for a very good price from a mate, and after another huge amount of peer pressure, i bought them
Theyre Volk group NR-S, and id say theyre my favourite mod on the car, theyre a bit marmite ive found after talking to a lot of people, but i couldnt imagine my car without them now. A decat was fitted a few months later, makes the car ridiculously loud! A spoon rear strut brace appeared at some point too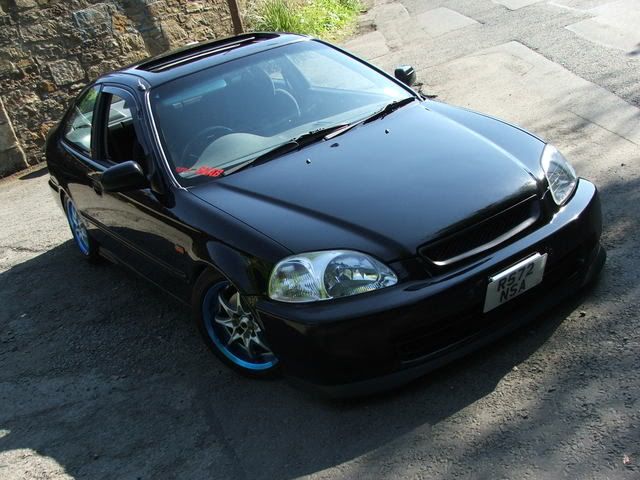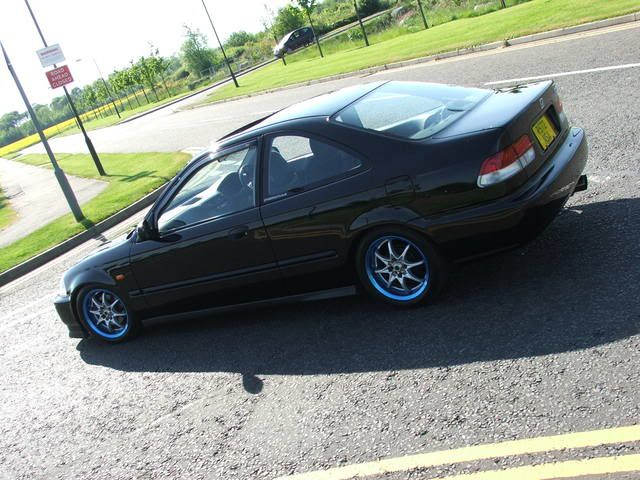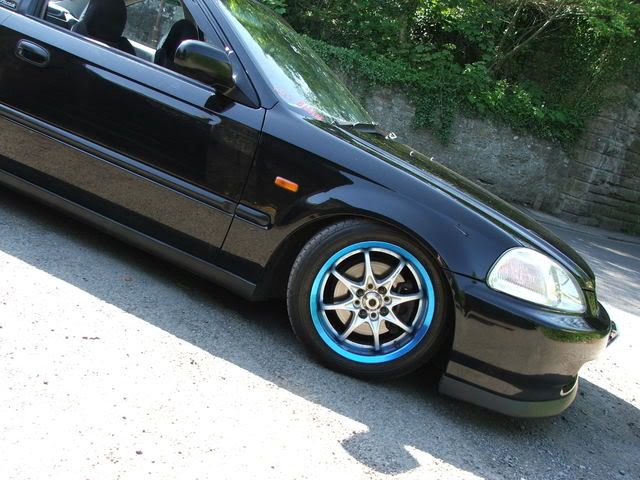 Had a few bits and pieces painted on it before JAE to tidy it up. And a month or so i managed to get my hands on a set of EK9 headlights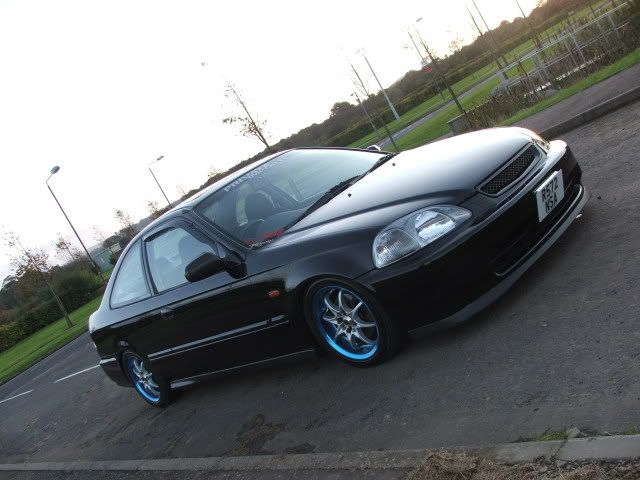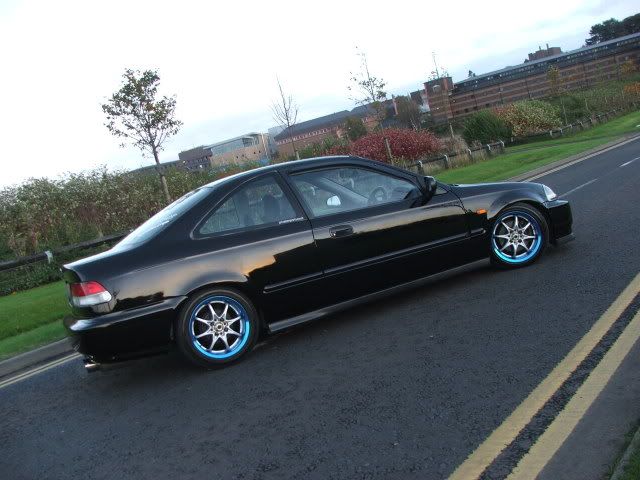 Now the exterior was pretty much exactly how i wanted it, so i began trying to enhance the driving experience. I had got a Bride Brix seat off a mate months before but didnt have a rail to mount it on, luckily another friend happened to have a Bride low position seat rail for sale to that was quickly bought and put in. And what a difference it made! Sitting pretty much on the floor changes the driving experience a huge amount, makes you feel what the car is doing a hell of a lot more. Looks smart too
I bought a full 282 front brake and rear disc conversion and after a huge bout of laziness, eventually put the fronts on. Hardly any clearance under the Volks at all!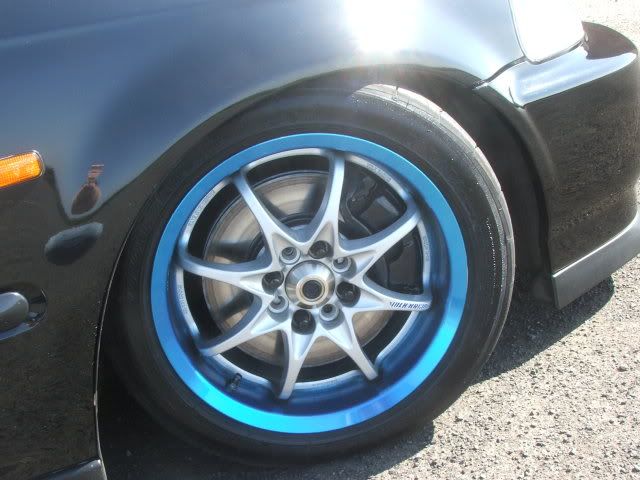 Think thats about everything thats been done so far, lots of things to go on it still, just needing some effort and i'll have my rear discs on, then hopefully itl have a new heart not long after
If youre still here then fair play for reading that novel, heres a few most recent pics to leave you with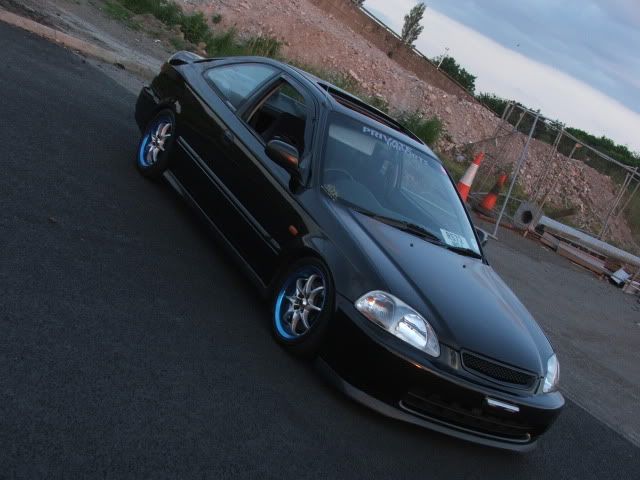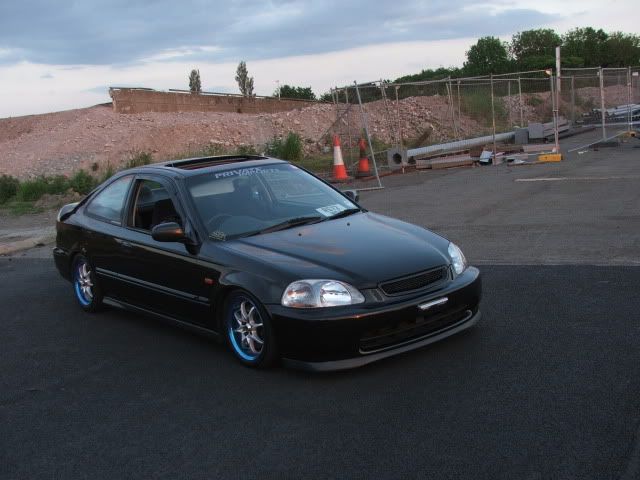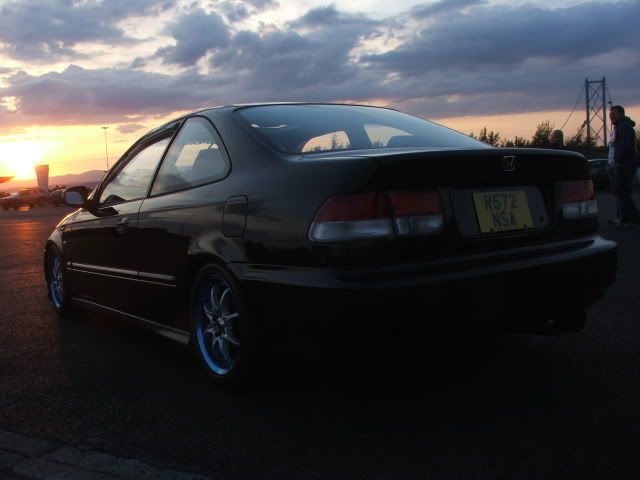 Cheers for reading