Joined

Apr 19, 2017
Messages

35
Car(s)

Honda Civic Type-R EK9
Hi all,
I'm not much of a poster of the forum, but thought some people might be interested in my racing this year.
I've entered the 2017 MSVT Trophy in my EK9 race car, and thought it might be worth sharing some of the experiences with you guys. I also thought it would be nice to jot down my experiences somewhere - so hopefully they are fun to read.
This race series is a great entry level for people wanting to get into racing, and was specifically designed for racers who want to take the next step up from track days in their car. You can compete in any make/model of road car, although it does need to be race prepared. Anyone who has already prepared their car to a track spec, I would really recommend this series as a first toe in the water for racing.
So I've been preparing over the past year or so, lots of trackdays, and lots of time needed to get the car ready and also to accumulate all of the gear needed to go racing. My car has been great, performing well at test days at Brands Hatch, Snetterton and Cadwell Park. I got my National B race licence over Christmas (like real life Gran Turismo), and then joined this race series.
There are 7 Rounds across the 7 different circuits around the UK. In each race you are racing against all of the other cars on track, but there are also sub-groups which are based on BHP/Weight ratio.
This is what my car looks like..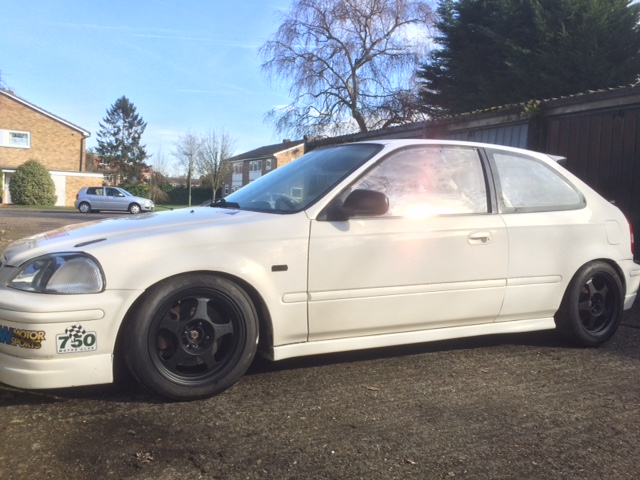 It's been mistaken for an EK3 because of some of the changed body panels, but its an EK9 with the B16B inside.
The engine has various upgrades, with lots of Tegiwa bits, it was originally built to Civic Cup specification. The last Dyno read out showed 190BHP, and I have another dyno session booked for next week so will see where the car currently sits. It weighs in at approx 900kg.
Race 1 of the season was really good fun. It was my first competitive race ever, so I wasn't expecting to set any lap records. Cadwell Park is a demanding circuit, and so I took it fairly easy in Qualifying, setting a best time of 1:55.55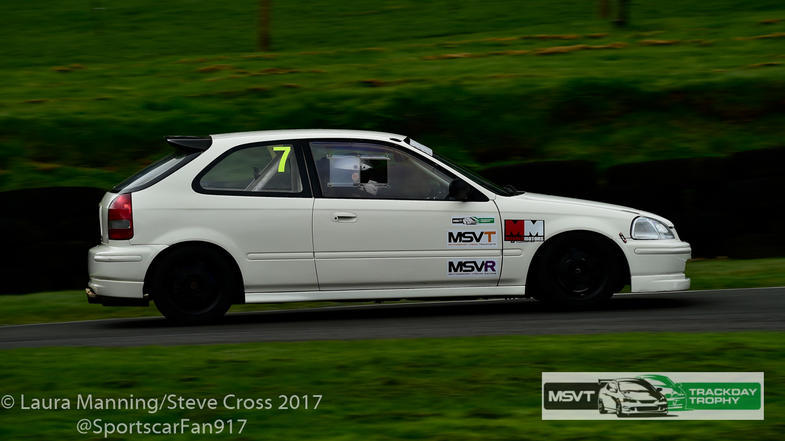 Those of you who know Cadwell will know that's not a particularly quick time, but it was enough to earn me P.13 on the grid, out of 17 cars. I was fairly happy with that as it meant I wasn't at the back, but also that there wouldn't be too many cars behind me hassling me from the very start.
It was my first race so my aim was to make sure I finished the race, and didn't have too many 'incidents' along the way. As we lined up for the start I was surprisingly calm, and really excited. The race started well, with me overtaking the BMW 325 in front of me and then trying to gradually up my pace as we went.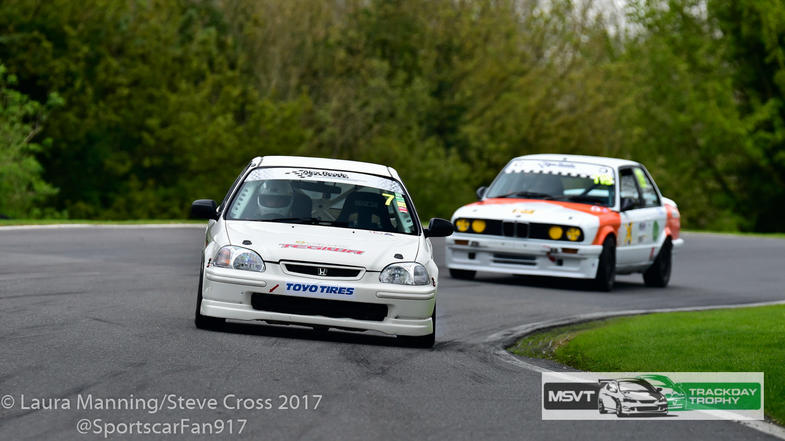 The BMW had more grunt on the straights, and was being driven by a more experienced driver, so it was tricky to keep him behind me, but absolutely brilliant fun! The 9 was absolutely stunning through the twisty sections at Cadwell Park, and allowed me to create a bit of a gap between the BMW behind.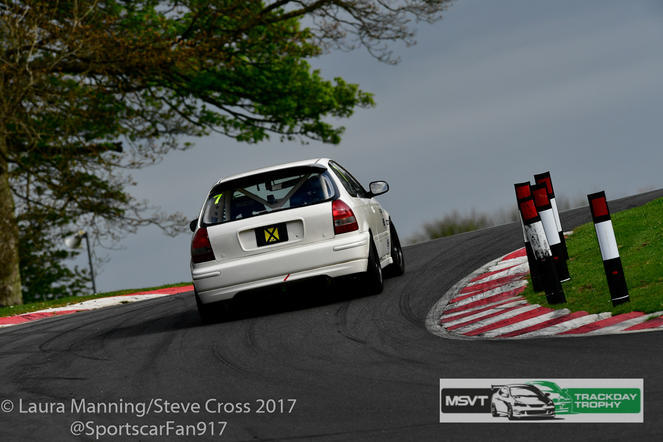 The race is 45 minutes long, and there is a mandatory pit stop mid way through. Some teams choose to change drivers at this point, but I was racing alone so had to sit stationary in the car for the full 2 minutes, which is torture when you are racing!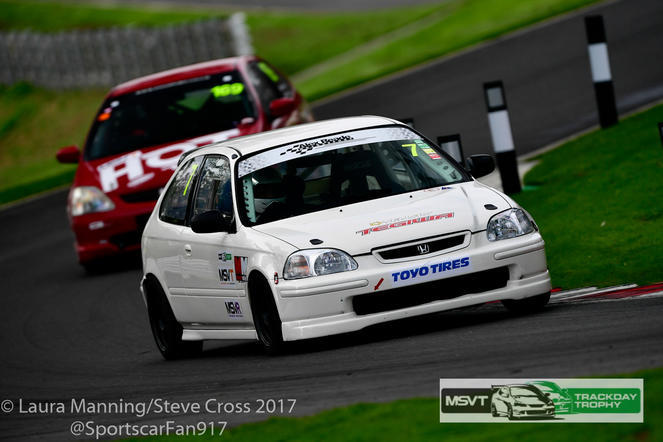 After the pitstops I found myself being chased down by the leading driver. The Finsport EP3 Civic was absolutely flying and got past me with ease.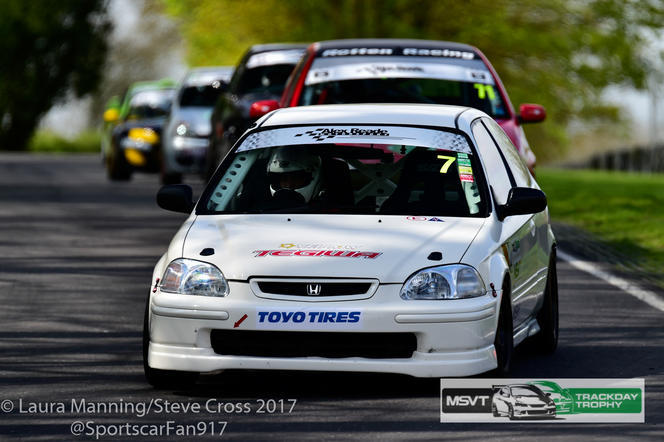 The remainder of the race I spent chasing after the BMW 325 which had leap-frogged me on the pitstop. They had also changed driver, which meant they were ever so slightly slower. But try as I might I could not get past him, and after a huge brake lock-up coming down the steep hill section I eventually lost a place to the Clio 182 that had been on my tail for several laps.
My main aim for the day was to finish my first race in one piece, so I relaxed a little and stopped chasing the BMW, and concentrated on not losing any further places.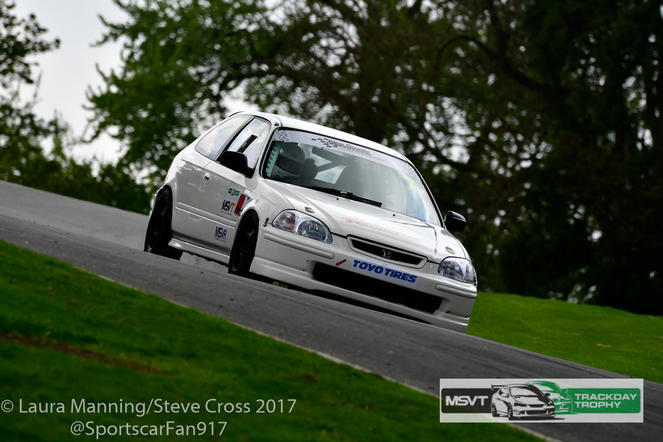 The car was superb, and brought me home eventually in P.9, not bad.
My fastest lap was 1:51.81 so a significant improvement over my best time in Qualifying.
Overall it was a superb first experience of racing. Finishing 9th in my first ever race felt like a good result, and I had a bloody good time.
Hopefully this has been worth posting, I'm not too sure how many people on here follow racing, or if its seen as sacrilege to race an Ek9? But the way I see it these cars were designed for the track, and I like to think Honda wanted some of these cars to be raced like this
Race 2 is at Snetterton in two weeks. If you guys liked this post then I'll keep you up to date with what happens there.
Cheers