Joined

Dec 5, 2006
Messages

10,880
all pics and dyno numbers moved to this page
ok like it says, i want to know your thoughts and opinions on turbocharging a stock b16b, what do you think of its compression ratio in relation to boost? i am in the process of turbocharging mine and will give a full review when its done but i want your thoughts and opinions regardless.
EDIT: just added a list of parts used below.
-meutek turbo manifold (flat black ceramic coated) from
www.meutek.com
-turbonetics ball bearing t3/t04e turbo from
RaceSpecialists.com
(flat black ceramic coated)
-custom 3" v-band downpipe (flat black ceramic coated)
-KMS-FAB 5-bolt to v-band adapter
-custom intercooler piping (flat black ceramic coated)
-PWR intercooler
-greddy type RS bov from
RaceSpecialists.com
-Tial 38mm wastegate with custom extension neck and dump tube (flat black ceramic coated)
-AEM EMS stand alone engine management system with build in uego
-AEM serial data gauge
-ARP head studs
-3" exhaust
-greddy oil block adapter
-greddy oil catch can
-spal slim fan
-aftermarket 2" radiator
-750cc RC fuel injectors
-walboro fuel pump
-NGK BKR7EIX iridium spark plugs
-stock head gasket
-stock exhuast manifold gasket
-hondata intake manifold gasket
-ACL rod/main bearings (engine needed fresh bearings due to accidental over-rev)
average cost for this type of setup is $7000+ USD, i work at a shop so i got a lot of great deals and i used some used parts, my total cost was $4400 so far plus the $600 i spent on new rod/main bearings since mine were shot brings me to $5000 so far. it could be done for A LOT less but i added a LOT of extra stuff, like the ball bearing turbo, all the ceramic coatings, all the custom fabricated parts, and my choice of engine management was an expensive one also.
im sure im forgetting something, ill post pics of the ceramic coated stuff when it gets back from the shop that does our coating.
EDIT: list has been updated to show current parts since a lot of stuff got lost in transit.
all custom/fabrication work and tuning done by MEHRAZ at teamD motorsports
Team D Motorsports
the setup below blew up, it was later rebuilt with a b16a shortblock stuffed with 81.5mm PR4 pistons, 3 alge vlave job and new bearings and made 317whp and 240wtq at 15psi
all pics now on this post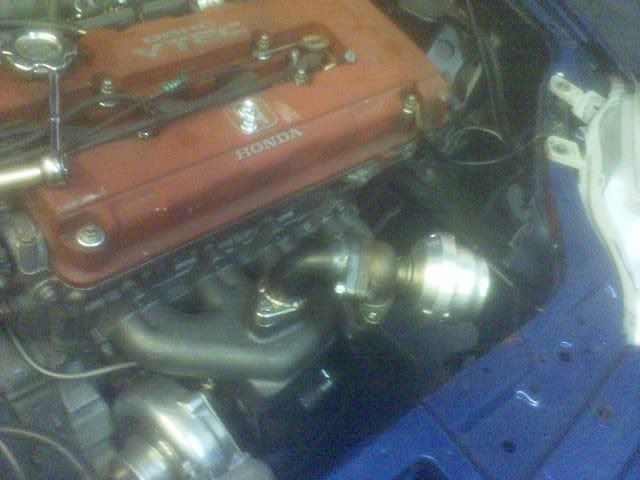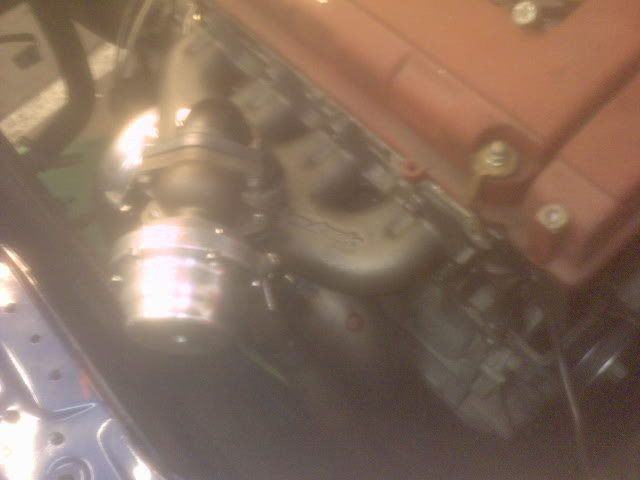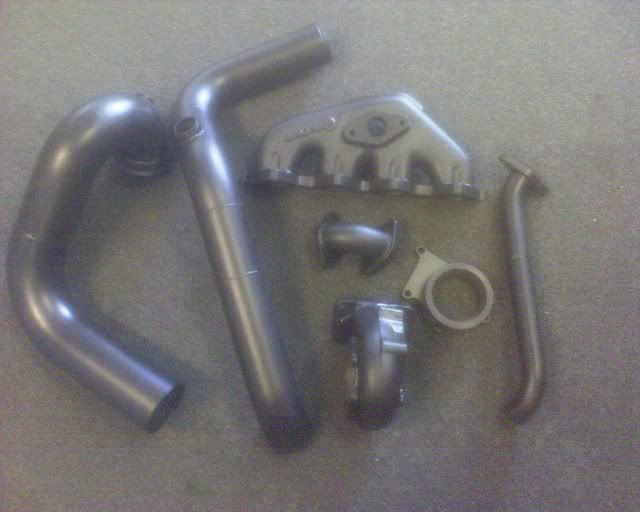 here are some better pics: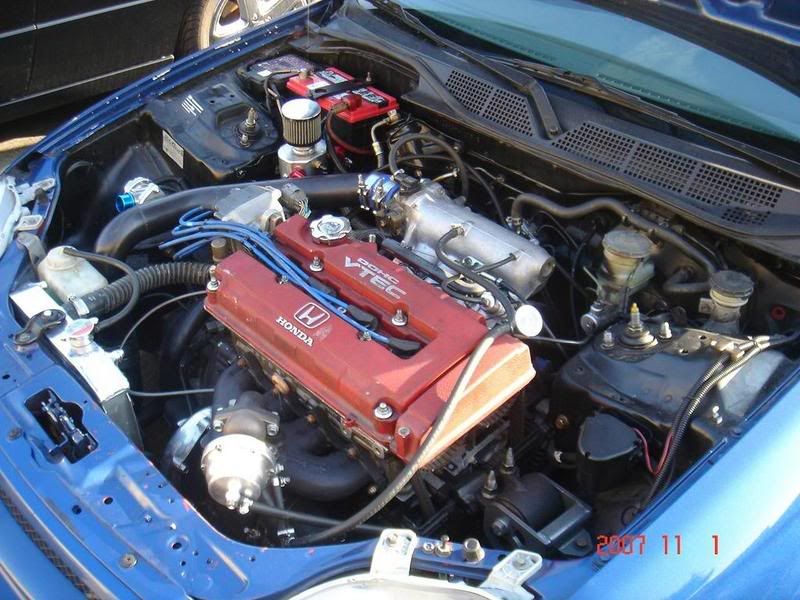 well the turbonetics turbo let go so i got a new turbo and some other parts you can see below, with this new set up im now making 333whp and 260wtq at 12psi.
-gt3076r turbo
-Tial 44mm wastegate
-new 3" downpipe
-new equal length manifold
-apexi GT spec intercooler
and the new setup: