Joined

May 24, 2011
Messages

755
Hi, introducing the poo brown EK4
Here's the current spec list:
Exterior:
Vision Technica DC mirrors
OEM mirror blockoff
OEM antenna blockoff
OEM window visors
OEM EK9 head lights
OEM EK9 front lip (not painted yet)
OEM EK9 rear lip (not painted yet)
OEM EK9 plate recess (not painted yet)
OEM EK9 wing (not painted yet)
J's Racing carbon GT wing
EK9 style front grill (need a real one)
Password JDM plate relocator
Password JDM front tow hook
Carbing rear tow hook
Interior:
Recaro SR5
OEM EK9 rear view mirror
OEM EK9 door panels
OEM EK9 gauge cluster
OEM radio blockoff plate
OEM airbag blockoff plate
Ifra Benetton steering wheel
Spec D short hub
Spec D quick release
Carbing shift knob
adjustable short shifter
relocated battery under dashboard
Chassis and wheels:
Yokohama Parada spec 2 205/45/16
Work Emotion CR Kai 16x7 +35
Yokohama Advan AD08 215/45/16
Buddy Club P1 16x7 +42
KW variant 1 suspension
Brembo max brake rotors
Summit pillar bars
J's Racing front strut bar
Carbing rear strut bar
Engine:
ec-tune with launch control and shift light
Skunk2 Pro Series intake manifold
Edelbrock throttle body 70mm
J's Racing carbon intake
J's Racing engine damper
J's Racing oil cap
J's Racing 4-2-1 manifold
Password JDM shifter bushings
Fal yellow radiator fan
Accel yellow spark plug wires
Vision Technica carbon spark plug cover
AEM fuel rail
AEM fuel pressure regulator
AEM fuel pressure gauge
Carbing coolant reservoir
Carbing radiator cap
Carbing cooling plate
Golden Eagle dip stick
Invidia test pipe
Invidia G200 exhaust
So, here's the car how it was: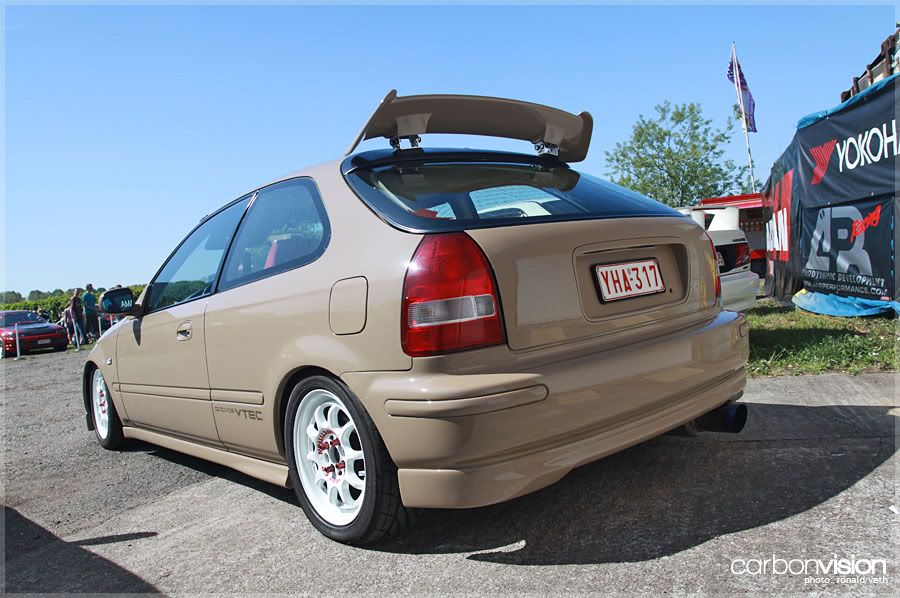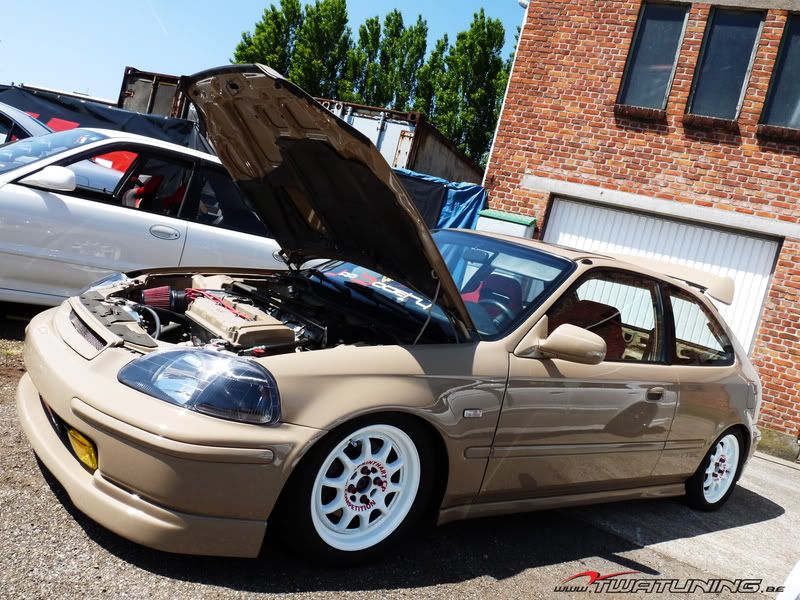 Cops didn't like the tilted wing and lifted hood so I put the wing for sale and drove around with the stock wing and carbon fibre hood for a while.
Finally someone wanted to trade the wing for a used genuine Spoon duckbill in bad condition. So I sanded down the Spoon wing and took it to the paint shop for a new layer of clear coat together with my EK9 rear lip which needed new paint.
Too bad they messed up and also painted the carbon wing...
Sold the wing and the carbon hood a few months ago. I have a carbon Type-R wing now but I'm not really convinced on how it looks on my car. Still have a OEM EK9 upper wing so I'll probably get it painted and put it on the carbon base plate soon.
Also sold the Sprint Hart CP's, they were 15" and I couldn't get in and out the garage without scraping. I'm driving around on my winter wheels now, spec98 reps.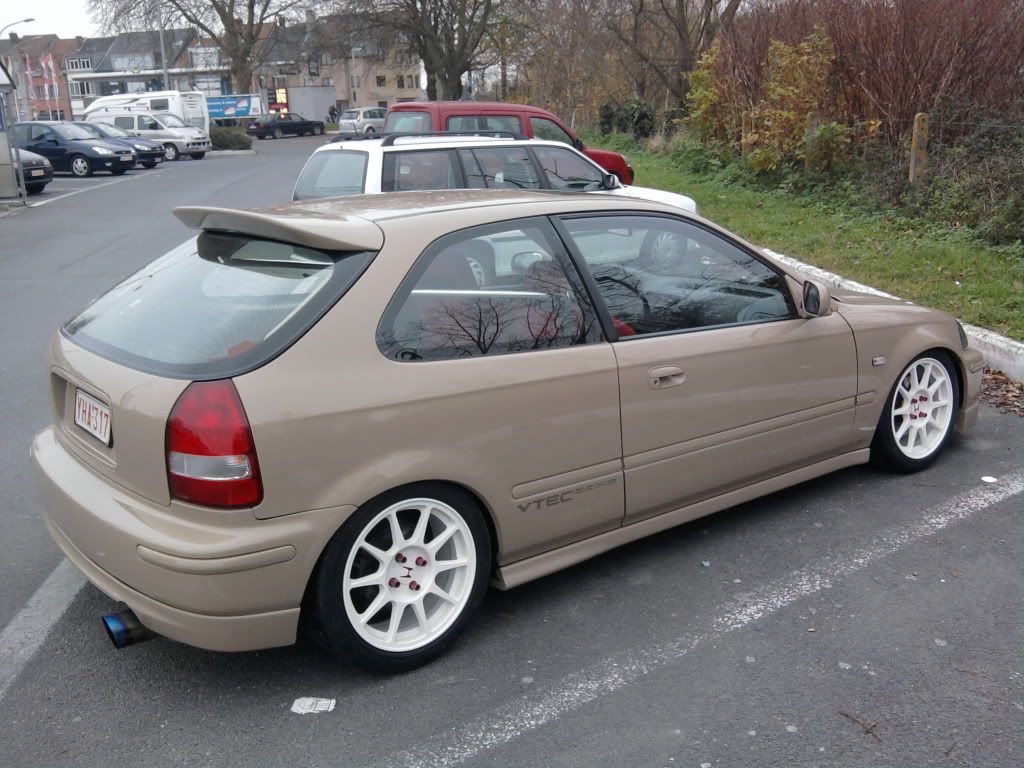 DC2 Recaro's are sold to, been replaced by these:
Still a lot to come and a lot laying around here (new valve cover, ordered new front strut bar and cooling plate and sold the PW:JDM stuff, new mirrors, EK9 head lights etc, maybe some EK9 window visors soon...). For now, I'm happy with the power the stock B16A2 brings. Maybe next year some stage1 cams...
Update:
Sold brown EK4, bought yellow DC2.
Last edited: