Whats up guys, after having some trouble with a moderator at hondatech one of my buddies recommended that I come here, so here I am. Im going to start off going through the few stages that this car has gone through leading up to where it is now. I bought my 1992 Civic dx pretty much bone stock except for a ebay catback. The exterior needed a little work.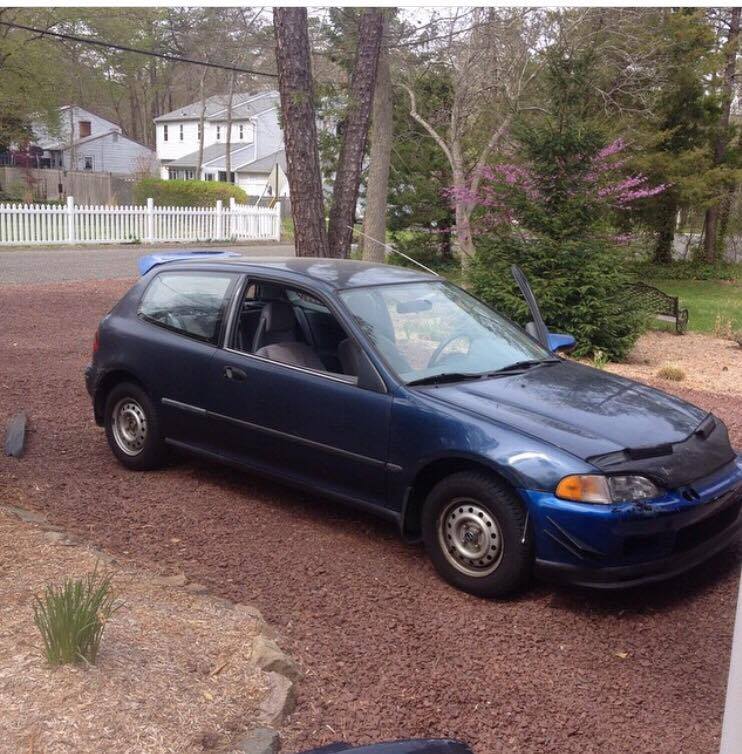 This is the car the first day i bought it.
From here I went and installed my function form type ones from the totaled integra that I bought for the gsr swap.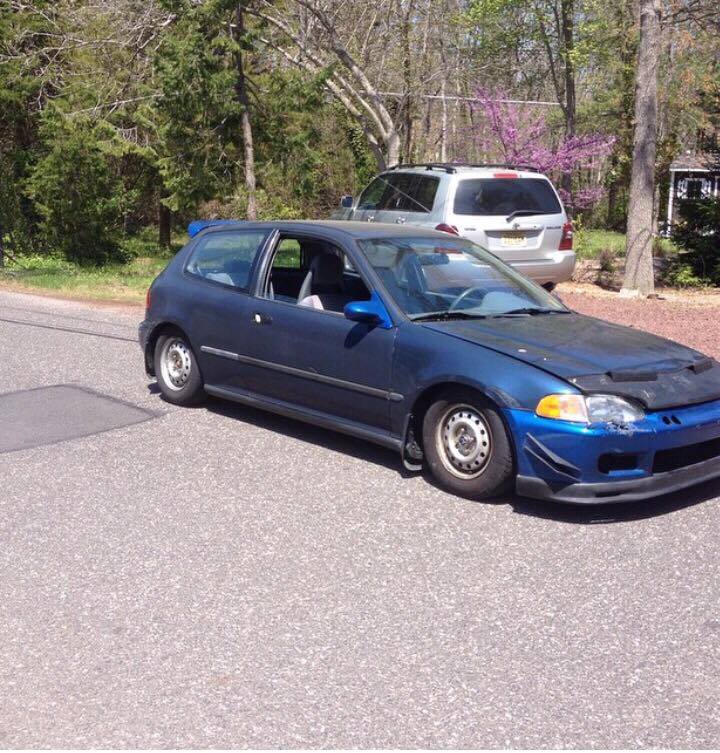 Not pretty but much better than before
Fast forward a few weeks from there(i had rattle canned the car black just to make it all one color) I was on my way to school when another kid rolled a stop sign and I had no choice but to hit him. I was no happy about this because this would have been the second hatch I totaled but after a little talk we decided to not go through insurance, as the only real damage was to the hood and rad support.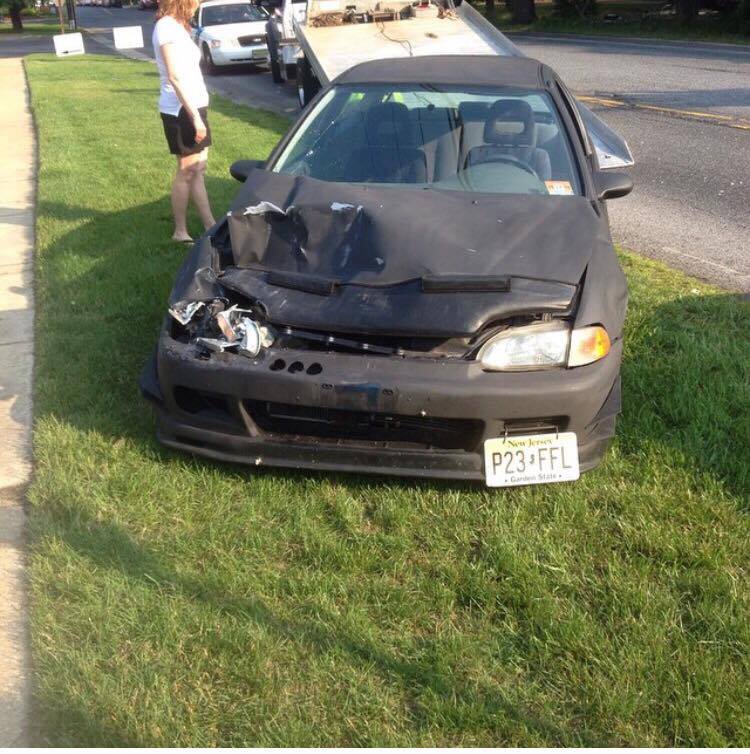 Now fast forward another few weeks again and we had it all sorted out, he gave me the money i needed to fix the car and everything went together pretty smooth.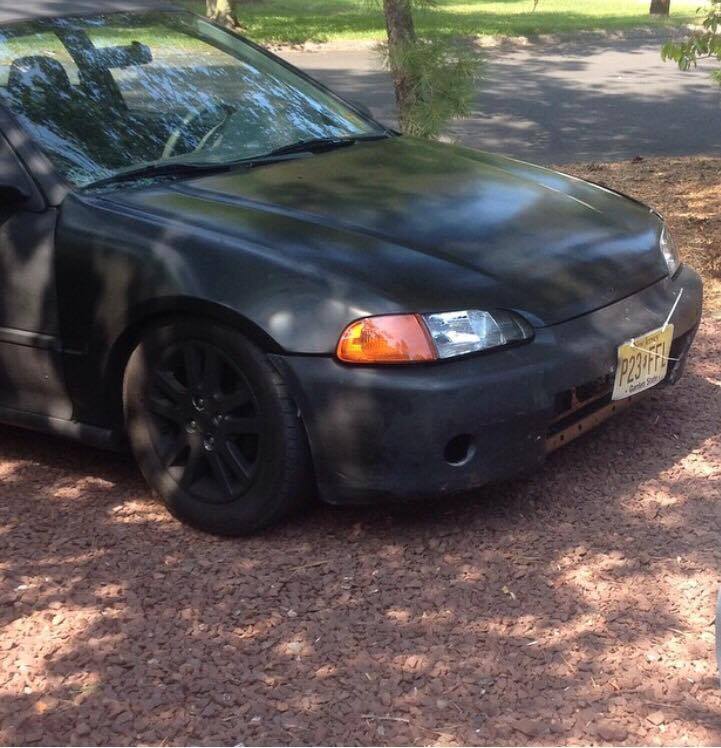 Shortly after this I finally got around to putting the gsr swap in the car with a b16 trans that i had laying around, and it was fun for a while til it picked up a misfire and low compression in cylinder 3. heres how the car looked at that point in time.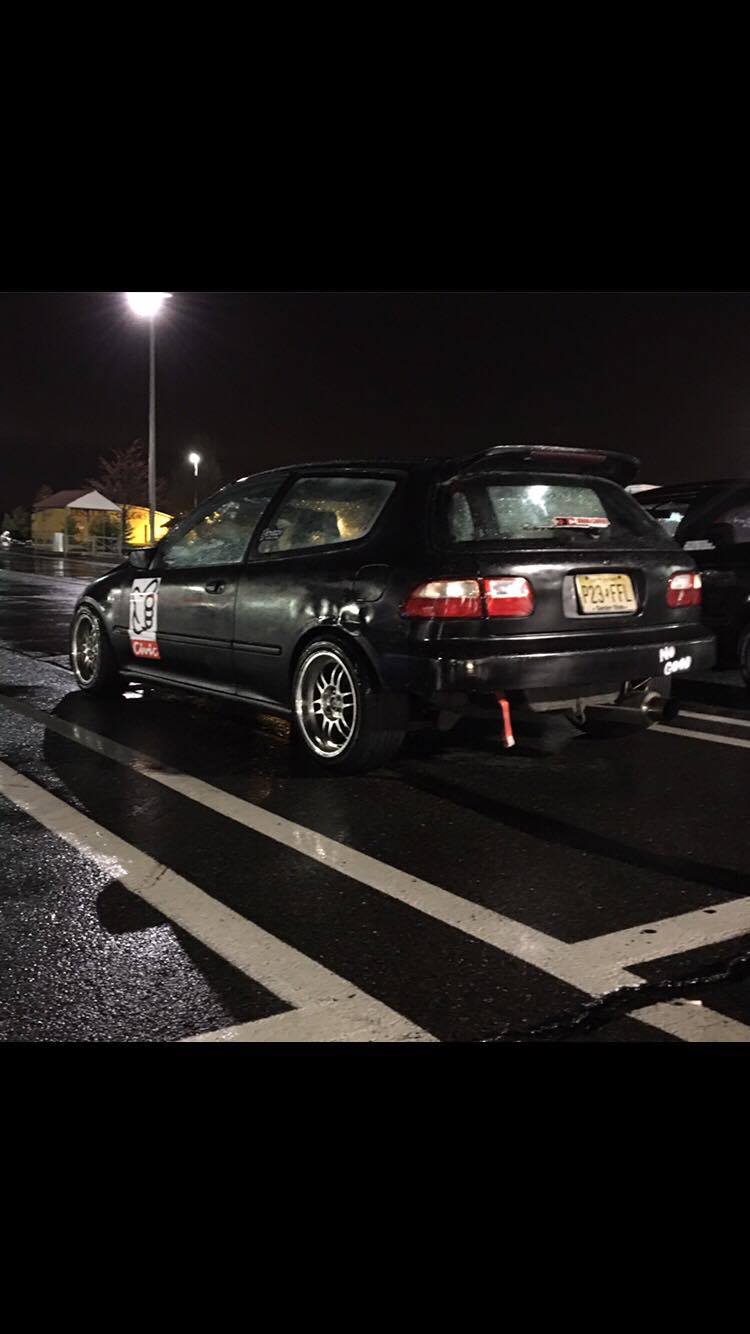 Now Im going to explain where the car is right now and what my plans are. After having trouble with the gsr, i decided that i wanted to try something a little bit different and I picked up a d16z6. I had been reading about vitara builds and the numbers that people were getting out of these single cams suprised me so I decided to give it a go. The goal here is go fast for somewhat cheap and somewhat reliable...well see how this goes. Here is a list of what I have so far
D16z6/Ex trans
Eagle rods
75mm Vitaras
Brian Crower Valve Springs
Arp Headstuds
Acl bearings(Main and rod)
Ebay 750cc injectors
Ebay log manifold
Spa t3/t4 60 trim turbo
ebay wastegate
Giant ebay intercooler
I am still piecing together stuff for the turbo kit, things like map sensor, fuel pump and a bunch of little odds and ends. I wont be using all the ebay parts indefinitely, im really using them to just get the car on boost and ill upgrade them as I go. With this setup im aiming for about 400whp. I will be doing all the tuning on the car using crome, I have done a fair amount of research on tuning and I have a few buddies with tuning experience so I will be reaching out to them for advice. Heres a few pictures of the motor, parts and car how it is currently.
The car is painted Type r yellow, Did it myself with a spray gun I got at walmart. Didnt come out too bad for my first time painting a car.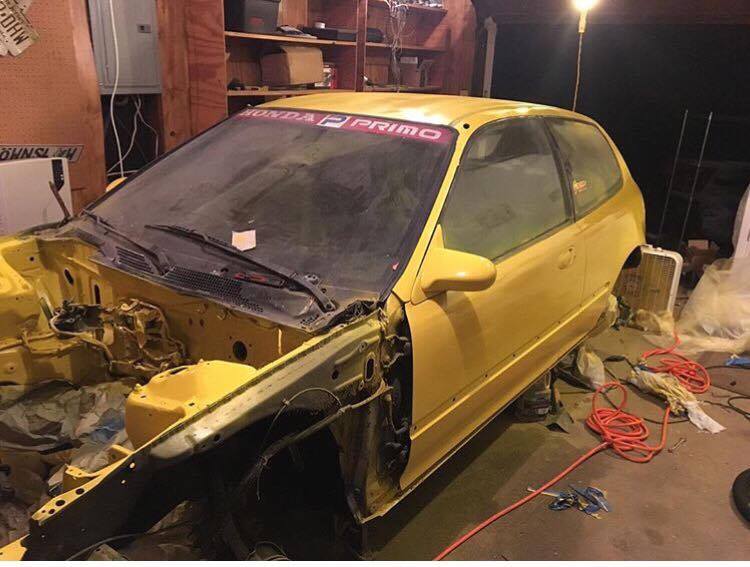 Heres all the goodies when they came in.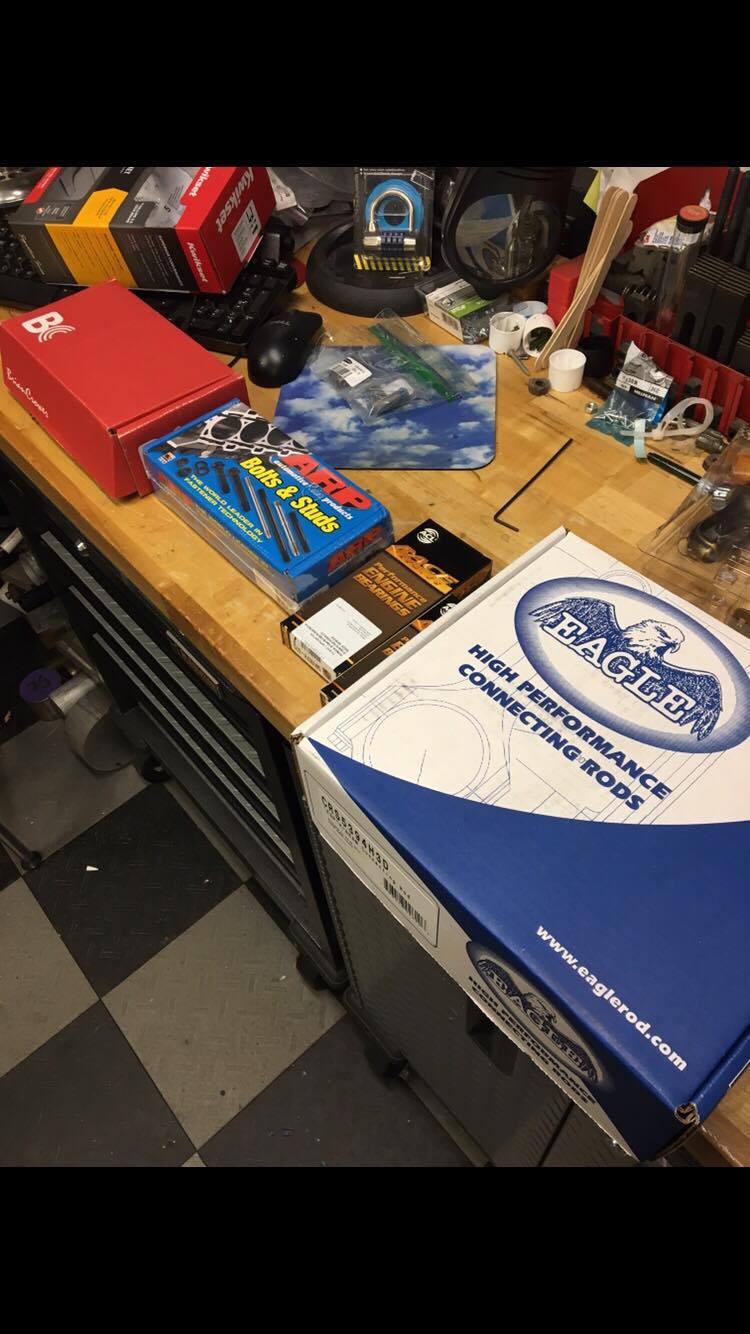 Vitara on the eagle rod. Looks pretty good to me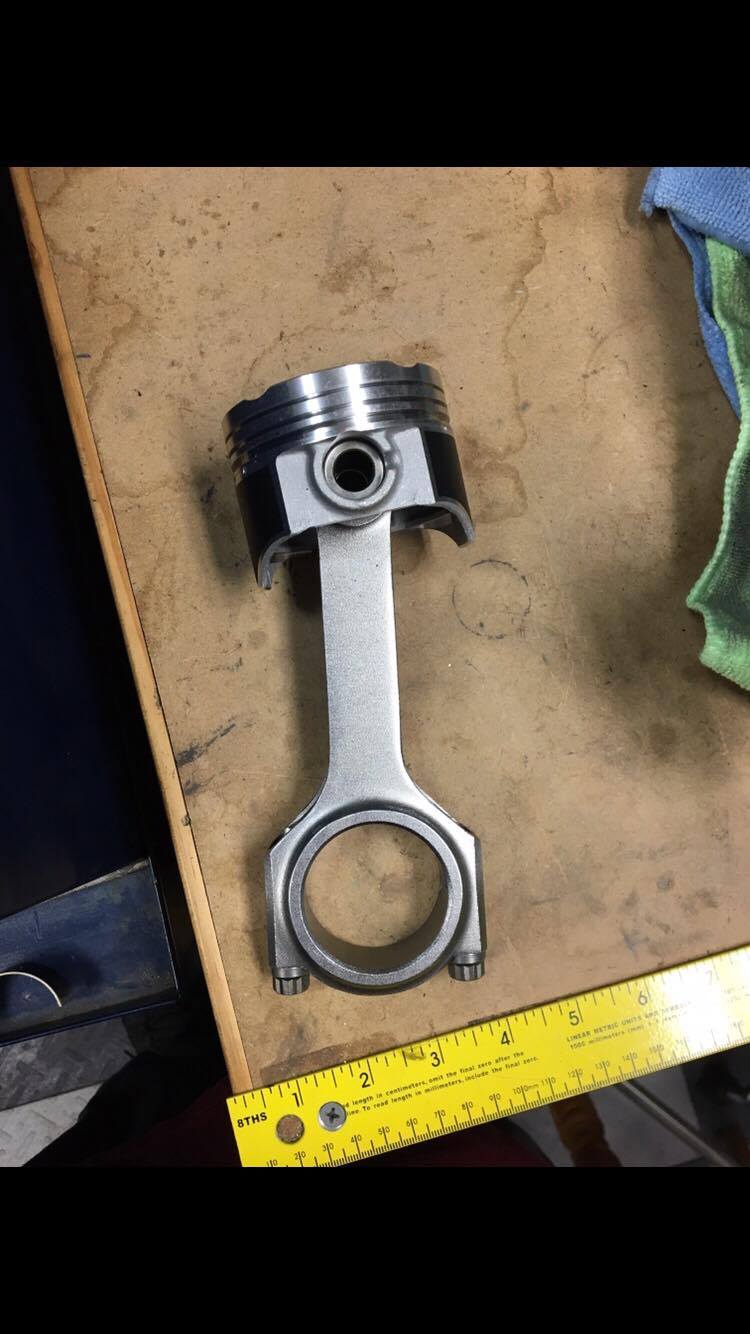 Heres The little 60 trim that ill be using.
Pistons and rods in the block.
Here the giant intercooler i was talking about. Still need to build some brackets to support it from underneath, ill post a pic whenever i get around to doing that.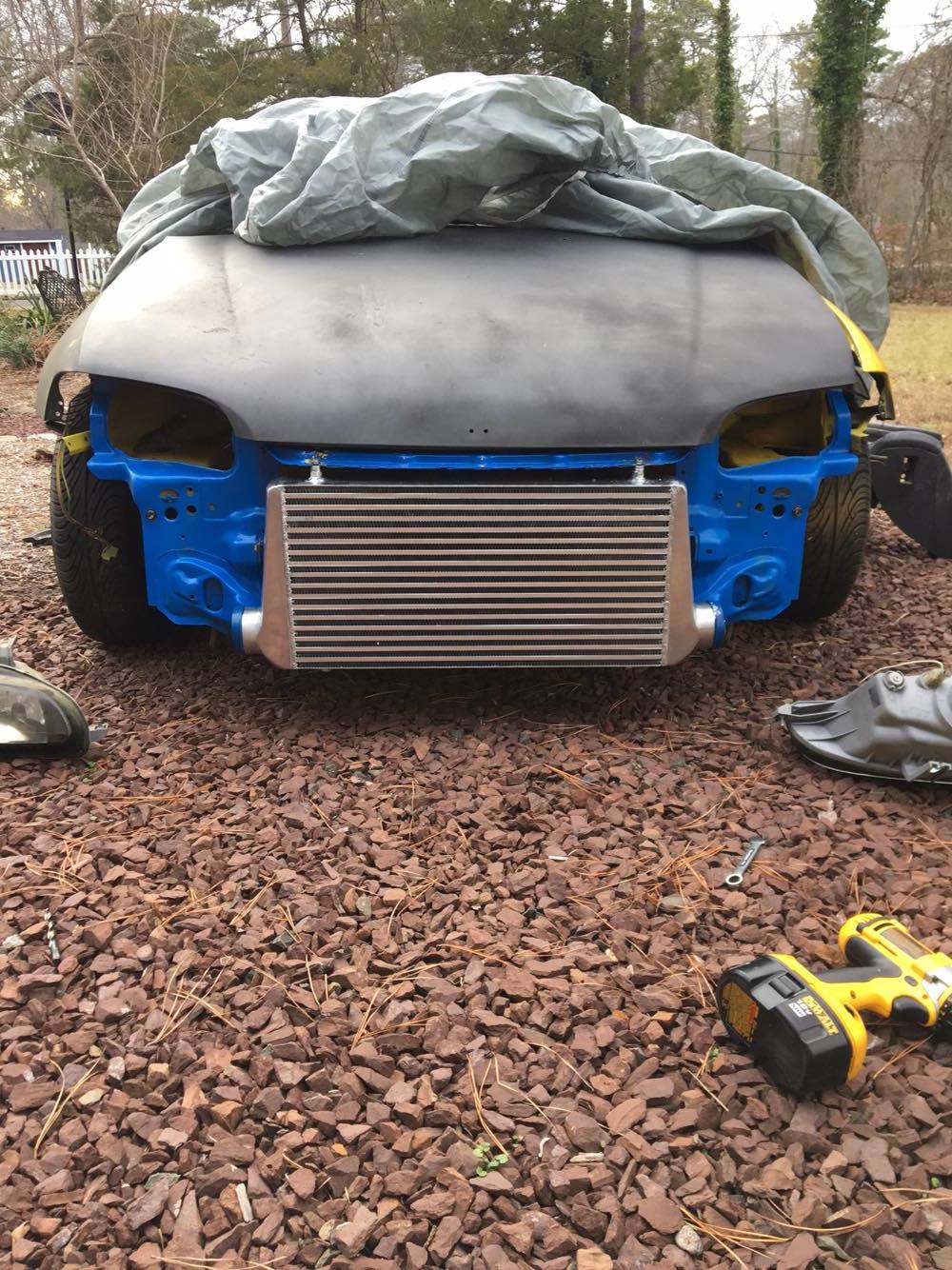 Here is the motor how it is currently. Im using a fel pro headgasket which i have heard mixed reviews about but ill see how it holds up. Also picked up a vms cam gear. At this point itll only be a few more weeks til i pick up a clutch and then ill be dropping it all in the car. Ill be working on the car a little bit once it stops raining here so ill try to post an update every so often until Im ready to drop it in the car.